"Alexa, I need more developers for Echo." That could certainly be a new command Amazon is considering adding to Echo, Amazon's hands-free speaker you control with your voice to play music and provide information, news, sports scores, weather, and more. That's because Amazon is dramatically expanding the product's "skills" which are functions and bits of intelligence for Echo that enables it to perform more tasks.
Amazon Echo is one of the hottest pieces of technology hardware on the market right now. According to recent estimates, Amazon has sold more than 4 million Echos since it launched in late 2014. In that time, Alexa, Echo's artificial personality that you give commands to, has only gotten smarter. According to Amazon as of late July, Alexa had more than 1000 skills. By comparison, Alexa had a mere 14 skills last September.
At Coding Dojo, we're all for helping make Echo more useful. That's why we were so excited to have partnered with Amazon to help train developers to enhance Echo.
In fact, we just hosted Coding Dojo's first ever Alexa skills workshop at our new expanded facility in San Jose. 85 developers—some Coding Dojo students/graduates and others from the San Jose State University Computer Science Club—packed the room for the workshop led by Amazon's Liz Myers. It lasted four hours and each developer was given the tools to create three skills in that time.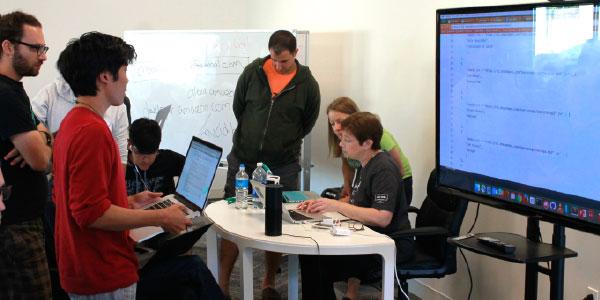 Some of the hundreds of skills created included flashcards (Alexa says a word and you have to define it), games and witty joke retorts. According to Amazon, they'll be reviewing each of the more than 200 skills created during the workshop to decide which ones make it onto Echo.
But it wasn't just all work and no play. To reward everyone for their hard work, Amazon handed out free Echos to everyone who attended the workshop!
Amazon was impressed with the quality of the developer community at the San Jose Dojo and we'll be hosting more of these workshops with Amazon in the future. We're overjoyed to have many more current and aspiring developers join us for those. And even more exciting is that we are working with Amazon to integrate Echo modules into our online curriculum. So stay tuned!
If you'd like to hear more about what we're doing and to get on the list for a future workshop, please email me at pschindler@codingdojo.com
"Alexa, show me Coding Dojo developers."