It's amazing to see how Coding Dojo has grown since 2013. We started in a small office building in San Jose, now we have 10 campuses around the country, are rapidly expanding online programs, and offer educational courses in countries around the world. 
Throughout this journey we've stayed laser-focused on the only result that truly matters: the success of our students. That's why we're proud to release the inaugural Coding Dojo Global Outcomes and Impact Report, which reflects student outcomes for our Full-Time and Part-Time Software Engineering programs ending between February 1 and December 31, 2019.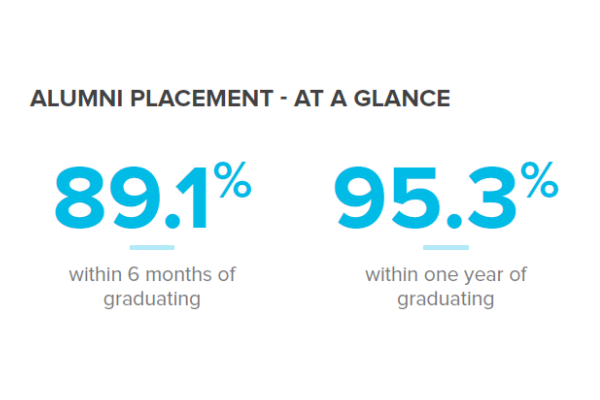 For this report, we first compiled all student outcome data from programs ending between February 1 and December 31, 2019. Our Career Services team closely monitors the progress of all alumni to ensure they are on the path to success and to discover potential career opportunities for them. To track placements, we routinely check alumni LinkedIn profiles, as well as messaging and calling each to receive career updates. During their initial enrollment, students can choose to opt-in or opt-out of our Career Services program. Students who opted-out of Career Services were not included in the sampling for this report.
It's important that Coding Dojo outcomes are transparent and trusted. So, once the final placement data was organized, we engaged with the third party auditing firm Delivery Associates to independently verify our results. Their team selected a random sample of 257 students to reach statistically significant results within a 95% confidence interval. We also surveyed all Coding Dojo alumni to gain additional insight into their post-Dojo career paths and satisfaction.
Without further ado, we're excited to share our alumni outcomes!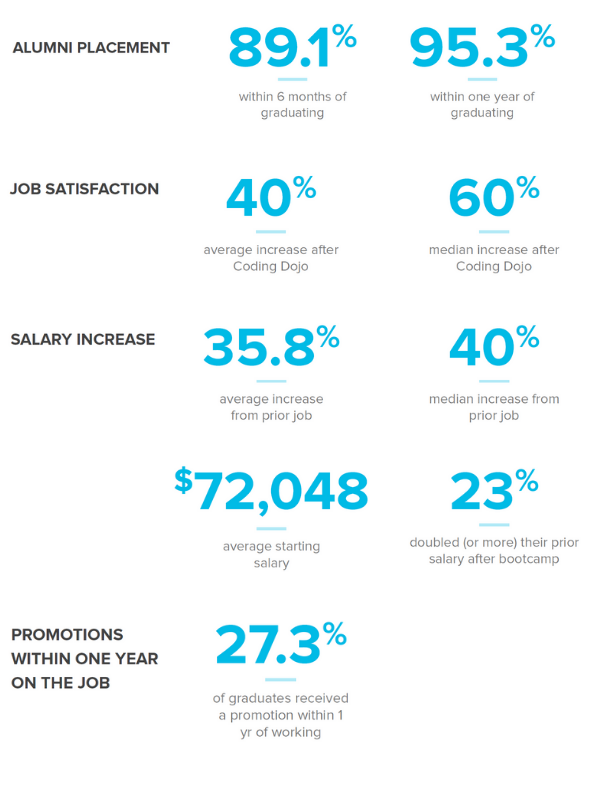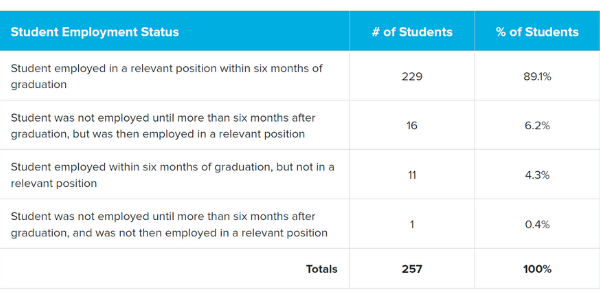 To download the full report, please visit www.codingdojo.com/outcomes. 
While we've made tremendous progress, there is still more to do. We will never stop improving to better serve our students and continue our mission of transforming lives through programming literacy!
If you are interested in learning how to code and transforming your life, Coding Dojo bootcamp offers accelerated learning programs that can transform your life. We offer both part-time and full-time online courses, as well as onsite (post COVID-19) programs. We also offer financing options, scholarships, and other tuition assistance programs to help you with financial barriers. 
If you want to invest in yourself and your future, there is no better time than the present! If you're interested, use this link to schedule a 15-minute exploratory session with one of our Admissions representatives today.