Data Science is an emerging field with job demand projected to grow by 19 percent by 2026, which is much faster than the average for all professions. We always strive for teaching our students the most up-to-date technologies, so we're excited to announce the launch of our new Data Science Plus+ Program. 
Data Science Plus+ is a 4-week course where you can get a hands-on, accelerated introduction to the field. This affordable, online course is lead by former West Point professor Isaac Faber, who holds a PhD from Stanford University and is currently the Chief Data Scientist for MatrixDS. The course features video lectures and tutorials, plus 10-20 hours per week of independent study and projects, which will provide a comprehensive introduction to Data Science and machine learning in Python.
By the end of the Data Science Plus+ course, you'll walk away with a deep understanding of the Data Science process, as well as how to use the methodologies and tools to solve real-world problems in business and academia. The program covers topics and technologies ranging from data prep with Python libraries, to data modeling in SciKit-Learn, to visualization and presentation with Bokeh. Other technologies covered by the course include Pandas, NumPy, Matplotlib, and Seaborn. 
Here's a quick snapshot of the 4-week course: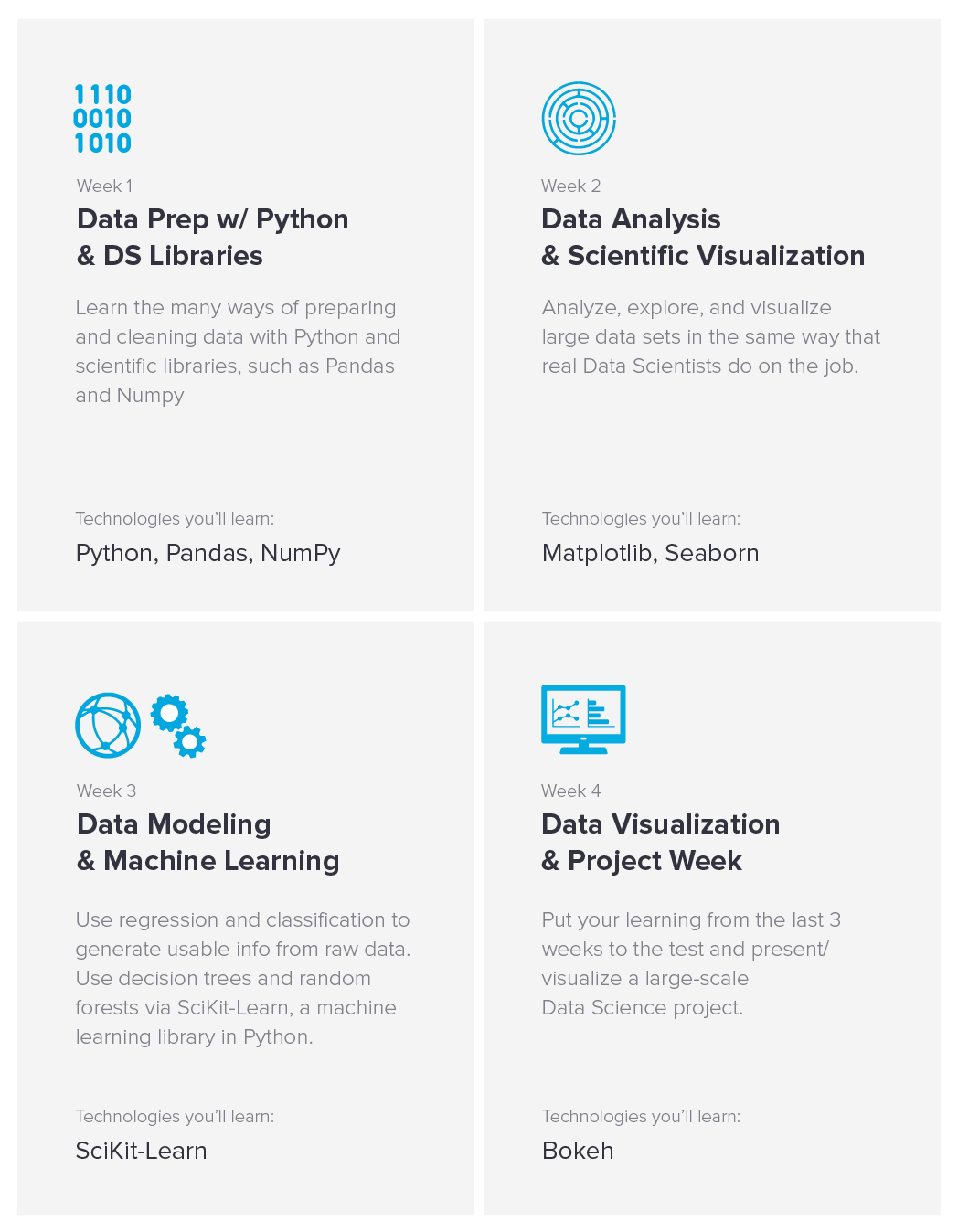 Applicants must have a high school diploma or GED, should have a solid understanding of linear algebra, as well experience with basic Python topics such as flow control and functions. Data Science Plus+ is beginner-friendly, but you'll need to complete our prep work before the first day of class. If you don't have experience, you'll need to brush up on your math skills and become familiar with the Python programming language.
Applications are now open and the first class starts August 12, 2019 — if you're interested, don't delay as we expect the first cohort to fill very quickly! We are also working on a full-time Data Science bootcamp, so keep an eye out and if you're interested in joining the waiting list, please contact one of our team members.