While we're proud of anyone who learns to code, there is a special joy we take in watching  veterans transition to the world of tech.
We pride ourselves on having the most serious coding bootcamp in the industry, but our students coming from the military come in with the unmatched confidence & drive of people who have passed a much more challenging bootcamp!
To celebrate our veteran alumni, we like to check in how they are changing the world after serving their country. Here are some of the stories we hope inspired you to take on Coding Bootcamp after you've finished your service.
Best of all, the GI Bill® covers veterans who have decided to make Coding Dojo the next step in their path toward a high-paying career.
Tom Hollingshead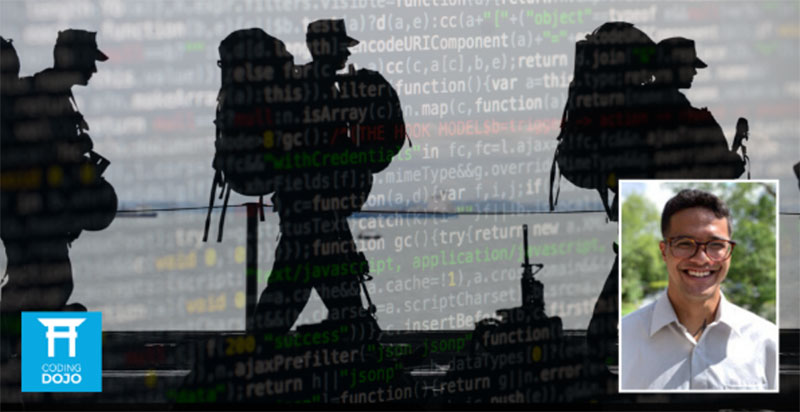 Following his service in the Marine Corps as an Aviation Technician, Tom found himself in a contract role as a Quality Assurance Representative. Knowing that he had to needed to expand his technical skill set to reach where we wanted to go in his career, Tom used his GI Bill Benefits to enter Coding Dojo's coding program in Seattle, Washington.
After being initially intimidated by coding bootcamp, Tom switched into gear and began "attacking algorithms." Successfully completing the bootcamp, Tom decided to head back to his field of passion — aviation — armed with his newly acquired skill set, landing a job at a flourishing aerospace manufacturer.
Larry Overman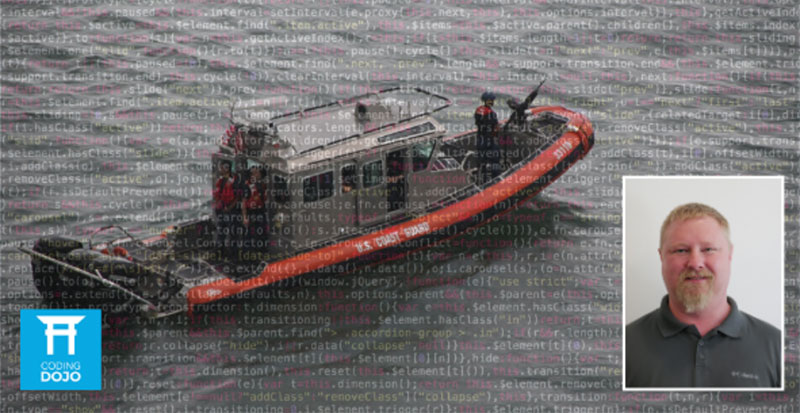 Not all veterans jump into coding right after their service is complete. Larry Overman, a 14-year veteran of the U.S. Coast, found himself wondering what to do with his future despite having his service and a Master's Degree in Information Systems Management.
Realizing whatever job he decided to pursue would involve technology, Larry leveraged the GI Bill to attend Coding Dojo in Washington. Like all students, Larry found the pace and intensive nature of the program took some time getting used to, but was able to work hand-in-hand with his fellow students to learn HTML, CSS, Python, C#, and MEAN together.
With the ability to work anywhere and for anyone now fully in his grasp, Larry opted to trade in his house for an RV and hit the road knowing that he was more than equipped to taken on whatever personal and professional adventures lay ahead.
Justin Honey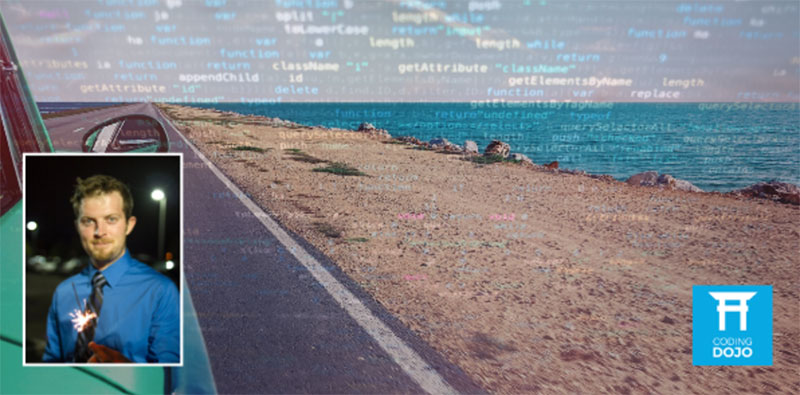 Sometimes it takes a while to find your calling. Following four years in the U.S. Air Force, Justin Honey found himself transitioning from job to job and industry to industry. It wasn't until he heard from friends about the satisfaction, salaries and quality of jobs in the world of programming that he looked in Coding Dojo.
In a move that saw him move from Coast-to-Coast with a coding bootcamp in the middle, Justin picked up programing like a natural, finding a job with a heavy emphasis on C++ right after graduations. Now working at Bestpass — a trucking company focusing of toll management — Justin is the main point main for all things related to developing and updating legacy software.
Answer your new calling
While we've had over 5,000 students graduate from Coding Dojo, alumni coming from the military will always stand out.
If you're a veteran (or know one) who is ready to earn a career they deserve, Coding Dojo has the best track record in getting you there.