Hold on, what the heck is a coding bootcamp?
In a nutshell, a coding bootcamp is an intensive 2-5 month computer-programming course that transforms beginners into ready-to-hire Software Developers. In addition to having limited prior experience, the students also come from all walks of life, from marketing to mason work. But regardless of their backgrounds, all students share a common goal, which is to learn software development to better their career outlooks, be it to become a developer, to launch a startup, to get a promotion at work, or to simply get up to speed with the in-demand languages and technologies. The beauty of a coding bootcamp is that with the right work ethic, anyone can become a software developer.
Does this sound too good to be true? Contrary to natural skepticism, coding bootcamps are the real deal, and the explosive growth of these programs are evidence enough for the equally growing demand. From the East to the West coast, the industry is popping up all across the U.S. According to fastcompany.com, the number of coding bootcamp graduates in the US grew by 175% over 2013!
Before Seattle, here's the rise of bootcamps in the US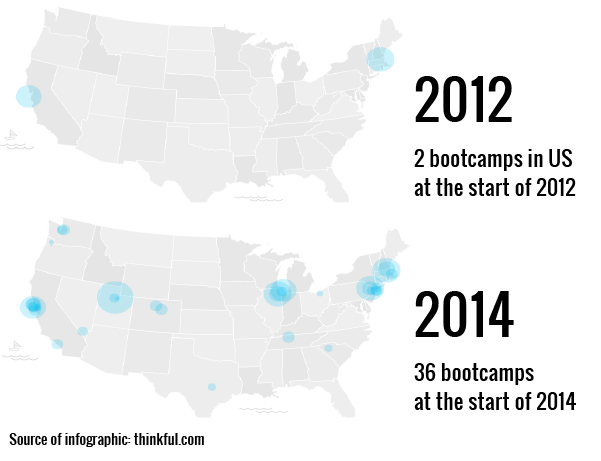 The Seattle coding bootcamp industry arrives and it's here to stay.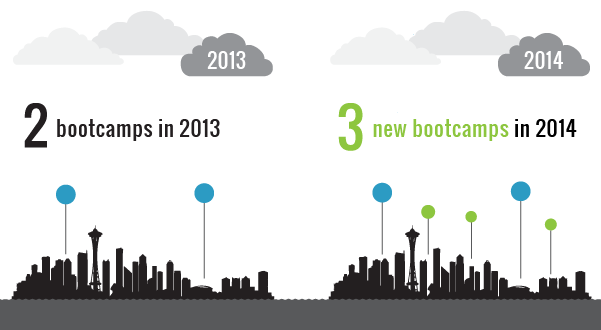 What was once thought to be an industry exclusive to other major startup hubs such as San Francisco, New York, or Chicago, Seattle is on the rise in the startup and coding bootcamp scene.
In the last 2 years, several coding bootcamps have set–up shop in the Greater Seattle Area, so don't expect an industry slow down anytime soon. Given Seattle's technological job climate, with Microsoft & Amazon in the back-yard and the local start-up community soon to bloom, the number of Seattle coding bootcamps will follow suit.
If you're a local Seattle resident looking for new opportunities through computer programming, but have always lacked the confidence or technical know-how to enable your career, now is your chance. Whether you're an aspiring programmer, tech entrepreneur, or simply a hobbyist, the Seattle bootcamp scene is indefinitely in-season, and it's time for you to wake up, smell the fresh air, and make the career change you always envisioned.
Interested? Learn more about what a Coding Bootcamp is like.