Web development is one of the fastest growing and most in-demand occupations to date, and with no sign that this train will halt anytime soon, there's no better time for new up-and-comers to get into the field!
Generous Salaries and Rapidly Growing Demand
As our modern society moves deeper and deeper into the digital age, fewer of the standard offline methods of doing things will remain the norm, while instead these methods transition into their more streamlined online counterparts. According to the U.S. Bureau of Labor Statistics (BLS), employment of web developers is projected to increase 20 percent within the decade between 2012 and 2022, nearly doubling the growth of all other occupations.
We can see here that in the past two years alone there has been a huge spike in web developer salaries given tech industry's demand to find talent.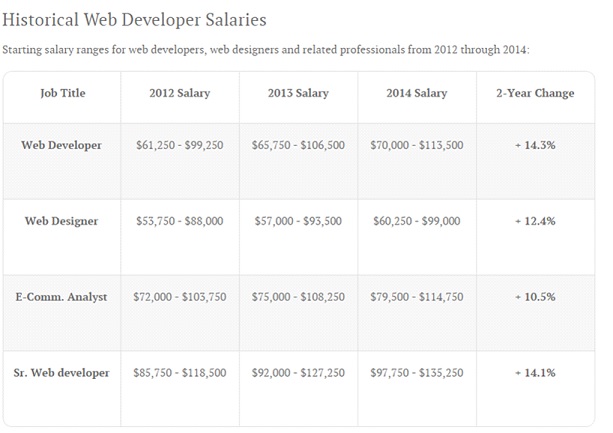 The expansion is largely based on the ever-increasing drive towards eCommerce, as online purchasing is expected to grow faster than the on-site retail industry.
An overwhelming surge of mobile device usage is also largely a cause of this projected growth, with a great deal of both new and existing websites requiring designs and development that support a mobile platform. In fact, according to the 2015 Internet Trends report, which is published annually by the venture capital firm Kleiner Perkins Caufield & Byers, mobile device usage for digital media consumption has handily surpassed that of traditional desktop platforms with no signs of slowing.
Perhaps just as critical to those looking to get their feet wet in the field of web development is the pay: How does a web developer salary match up to similar occupations?
According to the U.S. Bureau of Labor Statistics, the median annual wage in the U.S. for a web developer in May 2012 was $62,500, which is roughly middle of the pack for similar computer-related occupations, and well above the median across all occupations at $34,750. As mentioned above, even since 2012 we've seen a significant spike in web developer salaries based on employer demand.
Contributing Factors For A Web Developer Salary
Salaries for developers depend upon many things. These include the exact functions that the professional performs for his or her company or clients, the size of the company, and the type and amount of experience that the developer has. Of course, the part of the country that the developer works in might matter as well. It's fairly safe to speculate that average salaries in San Francisco are higher than they are in Omaha.
There are also several career tracks and disciplines a web developer can pursue based on their strengths and interests, which also can impact salary. Some of the most common tracks are front end development, back end development and full stack development:
Front end developer: A front-end web developer focuses on the look and feel of the site and utilizes languages like HTML, CSS and JavaScript.
Back end developer: A back-end web developer writes all the code necessary for the core logic of the website: Grabbing data from the database and molding how that data is appropriately used and displayed to the user through the front end.
Full stack developer: A much–lauded position, and rightfully so, the full stack developer is one who is adept at all aspects of the development process and is capable of contributing code and functional solutions every step of the way, from planning and design to both front- and back-end coding.
Front End Developer Salaries
In the past, this role was almost always called "web designers." However, in the past few years the front-end started becoming more complex and a higher amounts of actual programming experience is needed. The national median salaries for front end developer salaries tops more than $75,000, and in top markets comes in around $99,000 – $125,000.
Source: Indeed.com January 22, 2016
Back End Developer Salaries
Even though developers who work on the part of the site that remains behind the scenes may not enjoy the glory of those who work on the visible parts of a website, their coding skills may actually help them command higher salaries. In top markets, average salaries range from $124,000 to $139,000. Top earners with more experienced can command even higher salaries.
Source: Indeed.com, January 22, 2016
Full Stack Developer Salaries
Want to get paid the most? Then you should be a full stack developer and be comfortable jumping into CSS/HTML/JavaScript and then doing backend heavy Java/Python/Ruby, etc. Companies will pay one developer more money to do back and front end than hire two engineers combined. In top markets, full stack developers average between $115,000 – $146,000.
Source: Indeed.com, January 22, 2016
Enjoy a Booming Career in Web Development
With just about a billion registered domains on the World Wide Web, the growth of the Internet does not show any sign of slowing down! The profession of web development offers more than just high salaries, ranging from flexible work arrangements to personal growth, to a diverse range of career options.
If you're interested in becoming a front-end, back-end or full-stack developer, check out Coding Dojo's 14-week coding bootcamp.