Software developers, once again, is rated the best job. It's not surprising: with 84,000 job openings in 2018, a median salary of $101,790, and opportunities in the field "expected to increase by more than 30 percent by 2026," the urge to enter this industry is compelling, to say the least.
And while career switchers and hopeful developers may try their hand by utilizing free, helpful resources on the web to land an industry job — coding schools or bootcamps are tailored to deliver computer programming skills to accelerate that trajectory. So which is better? I'll give you my honest perspective:
SELF-STUDY vs. CODING BOOTCAMP
I found quickly that coding — although fun — isn't easy. Especially when I was just getting started. Like with any subject, the deeper the dive, the harder and more complex things get. Sometimes it feels like the more I study, the more perplexed I become.
Self-study is practical, adjustable, readily available and more affordable than coding bootcamps (some online resources are even free!). But while you need to pay money to be able to attend a bootcamp and sacrifice your free time, as well as your sleep and a bit of your social life– the things you will learn and experience will make your sacrifices worth it.

WHY CODING BOOTCAMP?
Coding bootcamps have emerged as a way to help people gain the necessary tech skills. They help a swift transition into a career in the web industry. Here are five reasons why you should choose to enroll in a coding bootcamp:

1. Fast-paced
Learning how to code is not a walk in the park; it requires hard work and a lot of discipline. One of the struggles developers face is focus. When you are enrolled in a coding bootcamp, much of your time is dedicated to learning different and necessary tech skills to become a software developer in a matter of months. With this rigorous and intensive schedule, you can learn and understand cutting-edge technologies better, and faster, than when you're self-learning.

2. Good study environment
Surrounding yourself with those who share the same goal as you are an excellent environment to learn in. In a coding bootcamp, you will have the chance to collaborate with other developers that will help accelerate your learning because you will gain the actual experience to solve problems with a team. You get to hear different kinds of opinions on how to understand a problem and witness how they solve it. These collaborations will help widen your range of learning and can even help you learn how to approach problems differently yet efficiently.

3. Great instructors/mentors
A good instructor or mentor doesn't necessarily mean he/she have to know the answer to everything. But a good mentor knows how to explain complicated concepts with simplicity and clarity.
Being in a coding bootcamp gives you access to an immediate and unlimited support system that can immensely help on your journey to becoming a full-fledged developer. Guidance and assistance from someone who already knows the way, can and will make that journey a lot easier.

4. More structured curriculum
A curriculum provides the structure of learning to ensure quality education. A coding bootcamp provides a curriculum where you can build your skills and increase your level of mastery at a well-planned pace. The free resources on the web can provide some of the materials you need for learning, but these learning materials are not as relevant and up-to-date as those that can be found in coding bootcamps.

5. Excellent career support
After the bootcamp, comes the job search. The best coding bootcamps do not only teach you how to code but also help you how to land a job that suits your acquired coding skills.

In summary, a coding bootcamp is a short, intensive program with a productive learning environment that provides a well-structured curriculum and a chance to collaborate with other developers, with excellent career support.

TOP CODING BOOTCAMP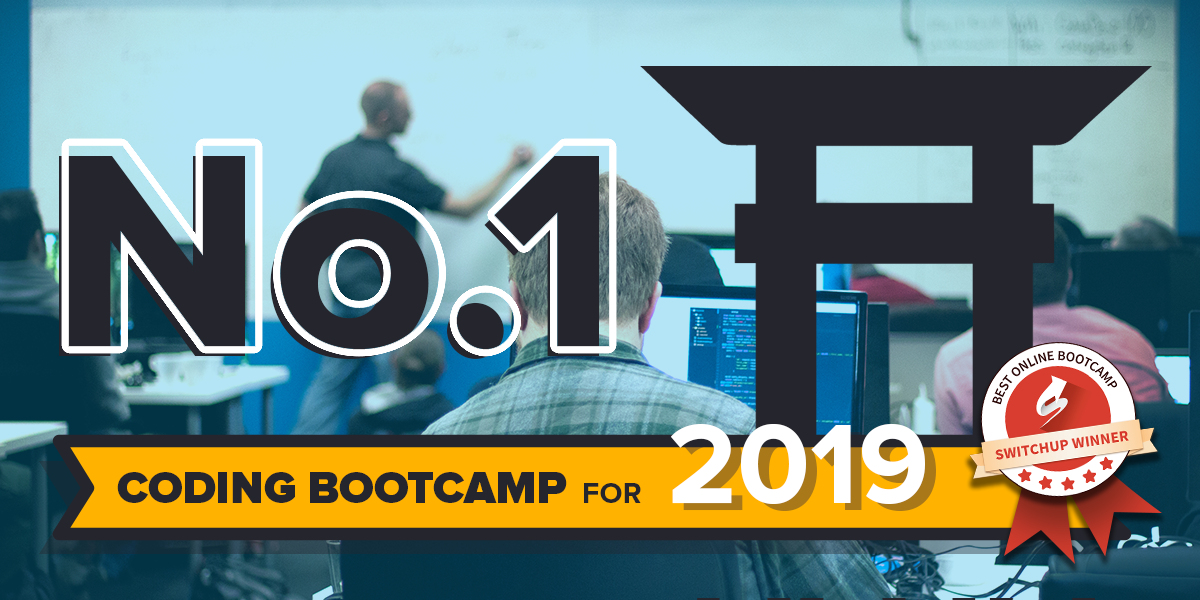 https://www.switchup.org/rankings/best-bootcamps-berkeley

As of August 2018, there are 95 in-person bootcamp and 13 online bootcamp providers in the US. According to Course Report, a coding bootcamp directory, the average cost of coding bootcamps is around $12,000 for an entire program. The tuition fee, though, varies from bootcamp to boot camp–some starts at $9,000 and others at $21,000.

Expensive does not always mean best, and cheap does not mean a great deal. No matter where you choose to go, you are bound to spend some of your hard-earned money. Finding the best coding bootcamp for you makes it a worthy coding investment

As one of the top-rated pioneering bootcamps, Coding Dojo is recognized for its refined, relevant, up-to-date and industry-based curriculum, which they continue to refine. Since 2008, Coding Dojo has been helping new and experienced developers pass the intensive training with new skills added in their arsenal. It is also the only coding bootcamp in the world to teach three-full stacks in fourteen weeks.

And Coding Dojo's career support helps students prepare for their future jobs in web development. Several of our alumni now work at Google, Amazon, LinkedIn, Facebook and the likes. Coding Dojo not only teaches you how to code but helps you reach the pinnacle of potential as a web developer.

Your career as a self-sufficient developer is just fourteen weeks away! Visit Coding Dojo's website to start now.